MaryGSykes.com
http://360daily.net/did-family-court-judge-commit-perjury-by-failing-to-disclose-2-5-million-of-loans-in-default/
with the internet now, there are no more secrets for public officials, and investigative reports find a gold mine of informatio on corruption:
DID FAMILY COURT JUDGE COMMIT PERJURY BY FAILING TO DISCLOSE $2.5 MILLION OF LOANS IN DEFAULT?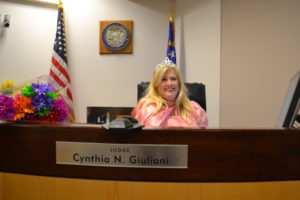 February 7, 2018
Clark County Family Court Judge Cynthia N. Giuliani was elected November 4, 2008, officially taking the bench on January 5, 2009. Judge Giuliani was re-elected to the Eighth Judicial District Family Court in 2014. Her current term expires in January 2021.
Less than a year after taking the bench on January 5, 2009, Judge Giuliani and her husband, local Attorney Roger A. Giuliani, filed a Chapter 7 Bankruptcy petition on December 31, 2009, in Federal Court. According to their bankruptcy filing, the couple owed $2,579,954.65 on real estate holds worth $1,980,500.00. Their real estate holdings took a major hit when the market crashed in 2008. Most, if not all, of the properties, had loans which exceed the values by…
View original post 201 more words